Ward Swingle

September 21, 1927-January 19, 2015
Let's take a minute to remember the legacy and life of one of the giants of the 20th Century choral/vocal world, Ward Swingle. He is best known as the founder and long-time director of The Swingle Singers, which earned the Grammy for Best New Artist of 1963, as well as three consecutive 
Grammys
 for "Best Performance by a Chorus" (1963-65). The Swingle Singers recently celebrated their 50th Anniversary and have recorded dozens of albums over the last half century.
Ward Swingle was a born musician. From a very early age he was destined for a life in music. Perhaps born isn't the right word, though. In his memoir, Swingle recalled this statement from his father: "Here's an A. If you don't remember it, you don't go to the movies on Saturday." His father expected two hours of practice per day and by sixteen, the three Swingle children were touring nationally as a vocal trio with the Ted Fio Rito Big band. After a stint as a cryptographer in the Air Force, Swingle was so well-prepared that he was able to complete a Bachelor's and Master's of Music at the Cincinnati Conservatory of Music in only four years.
After graduation, he began a lifelong love-affair with France (and his marriage to the French Francoise). He began studying piano with Walter Gieseking in Paris in 1952. And that's where his vocal magic really began.
Here's the thing. The Swingle Singers were his third successful vocal group. The Swingle Singers were an outgrowth of Les Double Six, a French vocal sextet that recorded French vocalese versions of Bebop tunes. They overdubbed themselves to achieve 12-voice harmony, hence the "double" in their name. They, in turn, included Ward and several others from Blossom Dearie's "Blue Stars of France" which was a hit pop group starting in 1954.
So when this group of Paris session singers were sight reading Bach fugues to stay in shape, and liked the sound, it only took Ward to add some bass and drums for them to coalesce into something powerful. They had history and knew how to sing together.
Jazz Sebastian Bach, their first album, was a monstrous hit and they were off to the races. Indeed, they were such a big hit that the most unexpected thing in the history of vocal jazz happened – it is the only time a vocal jazz group has been popular enough to plagiarize for a "knock-off" record. Another record company hired studio singers to record a very similar album of Bach pieces with bass and drum accompaniment. They titled their group "The Single Swingers" in the hopes that it would be misfiled and purchased accidentally by unsuspecting listeners. Swingle in 1997 was still angry at the company but I personally consider it the biggest compliment a vocal jazz group has ever received.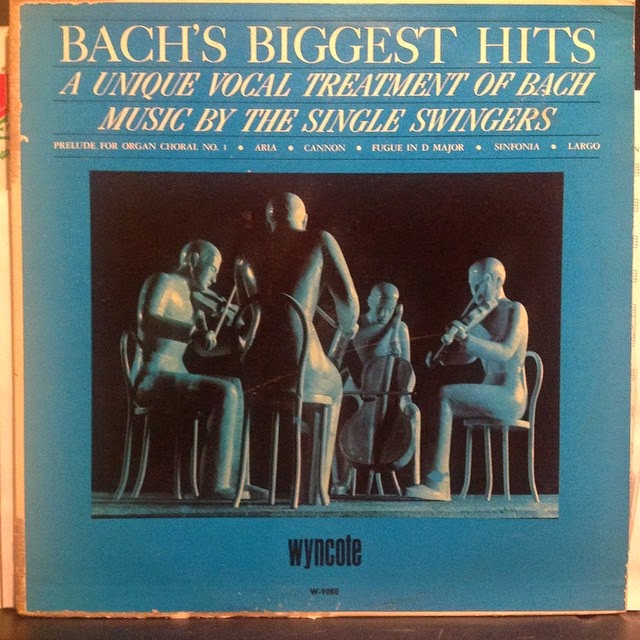 NOT The Swingle Singers
The Swingle Singers in original format lasted about a decade, after which the French singers were interested in a break and the Swingle family moved to London. I think that he was musically bored with being pigeonholed by the definition of the group – bass & drums, wordless vocal versions of instrumental pieces – and hungered for more musical challenges. The new group he formed in London was called Swingle II and the New Swingles before settling back into the original name. It was a cappella, and began exploring the gamut of vocal music from Renaissance to avant grade, as well as jazz and versions of the earlier group's repertoire.
It's this era of the group where Ward's writing offers me the most inspiration. Two arrangements that come particularly to mind are "
Country Dances
" and "
All The Things You Are
." But there are many, and his fertile musical mind was never at a loss for new ideas.
After retirement Ward remained a fixture of the vocal jazz world, and split his time between France and the U.S., where he had a summer home on Lake Michigan.
I got to meet Ward twice: first while on tour with WMU Gold Company in Belgium. Before one of our final performances on the tour, Steve Zegree brought an older gentleman backstage to meet the group. The general sense from the group was "Who is this guy" or "Who could Steve possibly know in central Belgium to bring backstage?" My jaw was on the floor though: vocal jazz nerd that I am, I immediately recognized him from album covers. We were privileged to sing two of his own arrangements for him and speak to him briefly before and after the concert. (I remember the stress of knowing that we were singing a cappella arrangements for the man who arranged them and who happened to have perfect pitch!)
Gold Company + Ward Swingle – May, 2000
The second time, thanks to his summers in Michigan, was at a Gold Company rehearsal in Kalamazoo. Ward came and worked with the group on the D minor double Fugue that opens Jazz Sebastian Bach and the Overture to the Marriage of Figaro. I remember him having strongly held convictions on tempo, rhythm, balance and tone. His absolute certainty in how this music was to be performed gave him tremendous strength in the rehearsal despite his gentle and quiet demeanor. I also remember him being affronted that we had made a big cut to the Mozart Overture (a recap was eliminated). He felt that it absolutely was wrong to alter Mozart's form. It felt like a moral failure.
The choral world has lost a leading light, one who altered the landscape of vocal music and kept creating throughout a lifetime in music. I feel fortunate to have gotten to know him even a little bit, and even more fortunate that his musical output survives in print, so we can all help to maintain and embellish his legacy.