I just received my second major commission for the Rockford Aces. After the success of our 2013 commission of Alice Parker (Cindy) I was hungry to commission again, and with the help of a grant from my local education foundation I was able to commission Michael McGlynn, founder and music director of Anúna to compose a piece for the Aces.
On Tuesday of last week I received the completed piece – he settled on a companion piece to
August,
a men's piece he composed in the 1990s based on a poem of early-20th Century poet Francis Ledwidge. (As of right now, 
August
is the fourth-most-played Anúna piece on
Spotify
.)
May personifies the month of May as a woman and describes her distinct attributes. It's a gorgeous poem, and Michael has set it as a lovely lilting waltz. He elected to write it as a true choral piece – no solo, with lines of text overlapping in various voices. It's harmonically complex, textually rich, and melodically compelling.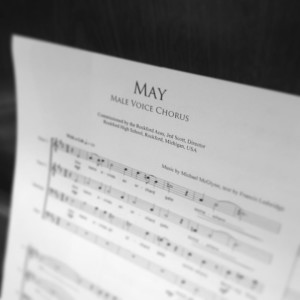 It will be several months before the Aces are ready to perform this piece; in the meantime, we get to be the only people in the universe enjoying this brand new music.
Michael has been fabulously open and generous throughout this process, including recording a spoken introduction of the piece for the Aces, along with his reading of the poem. He has offered to schedule a video chat down the road when we're closer to the premiere of the piece. In preparing to write the piece, he listened to the Aces carefully and then wrote me, "I have had a good listen to the CDs, and I think I know what would suit them best." It's humbling and exciting to imagine that he gave our choir the same due diligence he gave to Chanticleer or Rajaton when he wrote for them.
Once again, I am affirmed in my pursuit of commissioning new music. Michael says he intended to write this piece as early as 1997. But it took our commission to make it happen. As he wrote about the piece on Facebook, "sometimes it takes a very long time to achieve simple things."
If you haven't commissioned new music for your ensemble, you are missing a great professional joy, and more importantly a marvelous educational and musical opportunity for your students. I can't wait to do it again.