As a composer and arranger, I'm accustomed to bringing new pieces into the world. So it's surprising to me how much joy I got from commissioning a new piece from someone else last year.
When I presented my grant proposal to the
Rockford Education Foundation
to help fund a commission for the
Rockford Aces
, I shared a long list of composers I'd like to work with. But when they accepted my proposal, my first contact was to one of the most important choral arrangers of the 20th and 21st Centuries – the inimitable
Alice Parker
. To be able to work with this living legend would be a dream. Born in 1925, she has written and published hundreds of arrangements, compositions, books, and more. Dozens of her pieces are part of the standard choral repertory, and I personally program something from her catalog every year.
So I found her email address, and wrote her inquiring about her availability. And how delighted was I to get an email back from her the day after I inquired! She sensed my apprehension and opened her email with the words "I'm easily approachable!" And thus began one of the most transformative experiences of my professional life.
Alice was a delight to work with from beginning to end. She asked all the right questions and clearly listened deeply to my group's recordings; the draft she sent me of "Cindy" was written by someone who knew the Aces almost as well as I do. We worked together to catch discrepancies and polish the arrangement, but it was ready to sing when she sent it. And sing it we did, all year long. It became a clear favorite of the group.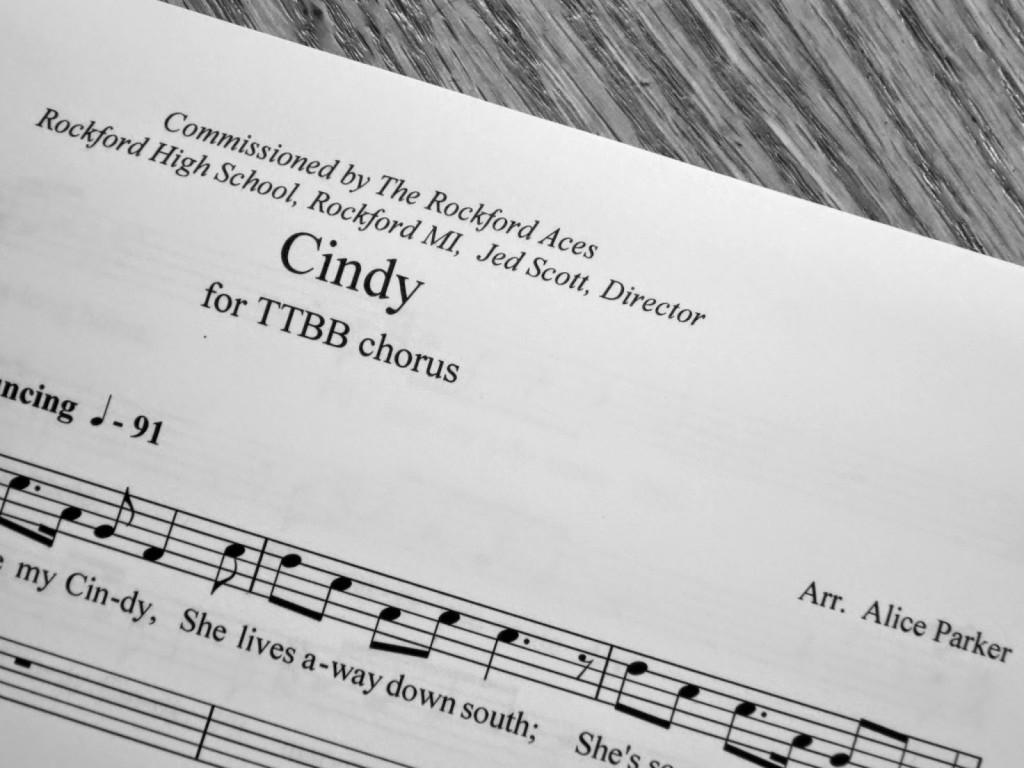 First Look
This isn't even speaking of Alice's three-day visit for the World Premiere concert, which will be a separate post. For now, let's just say that the hours I spent with her affected me deeply.
It's a great compliment to a choir to say, "you sing it like it was written for you." I think it's only occasionally that a commissioned piece is crafted with such care for a group that it truly is written for them. In this case, it's absolutely the case. The Rockford Aces sang it like it was written for them – the piece fit them like a glove. Here they are in the world premiere performance, on November 20, 2013.
And now, just about a year after I started the first sight reading of Alice's "Cindy," it's
available for the whole world to enjoy
. I think that many, many groups will be singing this piece for years to come. My friend Dr. Chuck Norris, of Grand Valley State University, is conducting it with the GVSU Varsity Men this year, and calls it a "nice addition to TTBB repertoire." I'll go further and call it a modern classic. Santa Barbara Music Publishing is lucky to have it.
Since hearing the news that the piece is in print, my heart has been bursting with pride. Working with Alice was a dream, and knowing that the piece is out there in the world for all to sing just sends me over the moon.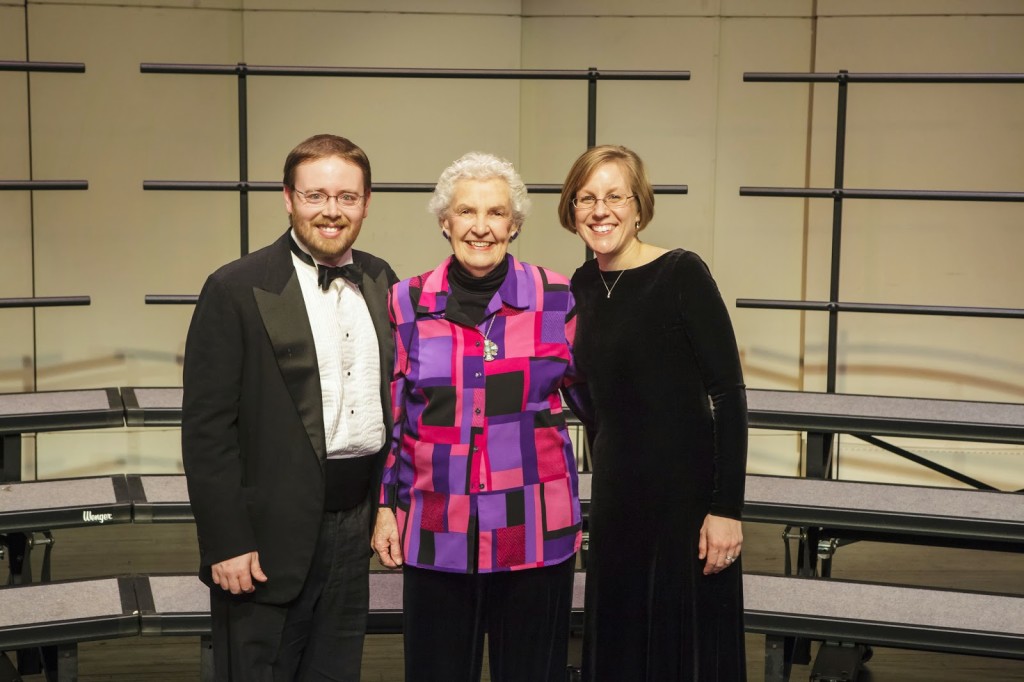 Jed, Alice, Mandy
——
A postscript: The Rockford Aces earned a gold medal for their performance including "Cindy" at the 2014 World Choir Games. The seven judges gave scores in the 7-9 range across all categories, with a final average of around 85/100. Among the 7's, 8's, and 9's, there was just one perfect 10 from one judge – awarded in the category "Fidelity to the Score" for, you guessed it, "Cindy." As far as that judge was concerned, they literally sang it like it was written for them.