This was my first vocal jazz Christmas album, purchased from Harmony House when I was a sophomore in high school.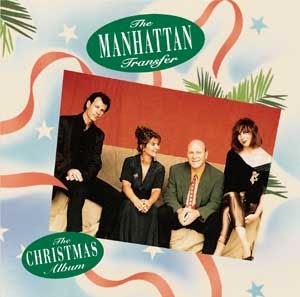 Was I lucky, or what? It contains marvelous arranging by masters of the genre, a guest appearance by Tony Bennett, and The Manhattan Transfer singing at the top of their game, which is very high indeed.
It seems to me that the best Christmas music has an essential nostalgia about it, even when brand new. (Renee Fleming's 2014 Christmas in New York and James Taylor's recent album are both good examples.) I sometimes think there must be a "Christmassy" plugin for ProTools that gives a wash of reverb and warmth to your mix.
Since the beginning, The Manhattan Transfer has been a nostalgia group in the best possible way. If you look at
early performances
of the group, you'll see a conscious throwback to '20s-'50s style. Their singing reflects the same passion for early styles – in particular their love for close 4-part harmony singing and the songs of '40s & '50s vocal groups.
So a Christmas album was a natural fit for this particular group. And they hit it out of the park with wonderful production, tight singing, and contributions from the best writers in the world.
The album was produced by TMT bass Tim Hauser and composer/arranging legend Johnny Mandel. Mandel wrote lush orchestral and big band arrangements, as well as many of the vocal arrangements. (He shared vocal arranging responsibilities with members of TMT and the one and only Gene Puerling.
It's magnificently written and performed; let me highlight a couple of moments from an album full of them.
Classic Puerling writing for both TMT and a children's choir. It alternates between a cappella singing from the quartet with larger orchestrated sections. Take note of the momentum they maintain despite a tempo that is in no hurry. Listen to the beautiful duet line Puerling wrote around 3:30, and how it spreads so smoothly to four-part writing about 15 seconds later.
I'm fairly confident in saying this is the only arrangement ever marked "Vocal Arrangement by Gene Puerling & Johnny Mandel." I suspect it was Puerling's arrangement that Mandel adapted as he orchestrated it, but perhaps one day I'll travel to the Gene Puerling Library at the University of North Texas to check firsthand.
That this was their collaboration allows me to highlight this story from the lyricist and author Gene Lees.
"One day I was sitting at the piano, working out the chord changes of (the song) Emily. A harmonic sequence at the end was giving me trouble, so I called Johnny Mandel on the reasonable assumption that, since he wrote the tune, he should know the changes. He gave them to me, then asked, 'Have you heard the Singers Unlimited do it?' 'Yes.' 'Good', Johnny said, 'Now throw out my changes and use Gene Puerling's.'"
That gives an idea of the respect Mandel held for Puerling; imagine how he must have viewed the opportunity to collaborate. This is a beautiful arrangement. I love the way that the vocals are balanced to highlight the harmony rather than the melody. Even on The Singers Unlimited's recordings, often the melody is placed farther in front. Here the emphasis is harmony rather than melody.
Lest you think this is an album of ballads, let me highlight this medley of swinging Christmas tunes with big band accompaniment. It's a nod to Count Basie with horns and tight vocal harmony. To complete the tribute to Basie, both instrumental soloists had previously played with the Count Basie Band, most notably trumpeter Harry "Sweets" Edison, who played with Basie in some of his finest bands from 1937-1950.
Gene Puerling arranged; Mandel orchestrated. Tony Bennett sang the solo. TMT sang rich harmony. I'm going to have more to say about this arrangement down the road, but for now, listen and be amazed.
The whole album is fabulous and only $4.99 at Amazon right now. There is no album that sounds more Christmassy to me than this one; if you don't own it, you're missing out.
Subscribe to my mailing list
Get updates, writing, and interesting links
delivered every week