I had the privilege of attending the Little Traverse Choral Society spring concert last night – 90 minutes with intermission of great choral music – Parker/Shaw, Luboff, Copland, Stroope, Vaughan Williams, Rutter.
I was delighted to hear their conductor's strong speech to the audience, urging them to join a choir, any choir. He explained how relatively easy it is to start singing by joining a choir (you don't need to have years of experience on an instrument) and the transcendent musical, emotional, and spiritual experiences you can achieve singing with the choir.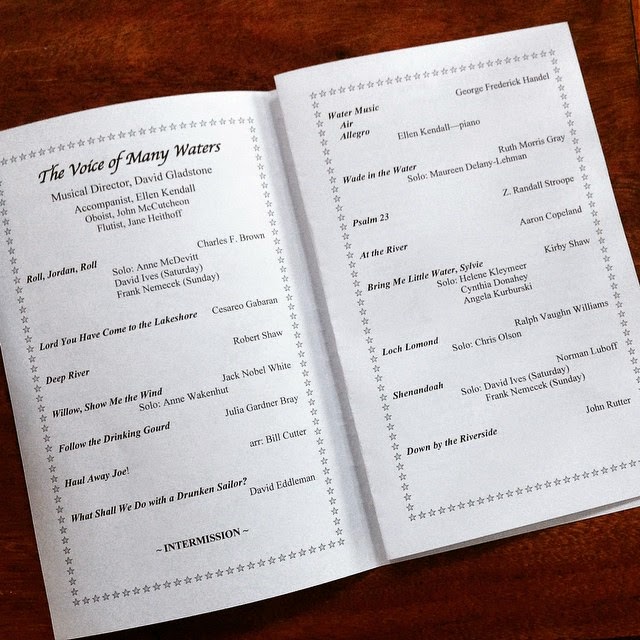 The ambitious program from LTCS
It makes me so proud to see my parents up there – my dad who has been a passionate appreciator of music all his life, but who was prevented by career from making music regularly after college until his retirement, and my mom, who quit singing after eighth grade, despite her love of vocal music.
It reminded me of the marvelous project currently being spearheaded by Andrew Minear and his team, The Keep Singing Projcect. The mission is to connect high school seniors with their college choir directors, helping them to find their place in college and to keep singing.
So many students take for granted the musical experiences they are having in high school, and walk away from it after graduation – often not returning until middle age. What a loss for them to not have a lifetime of the experiences my parents' conductor mentioned.
Looking at those fifty singers last night, I was so inspired by their passion, their commitment, their clear love of making music with the choir. Many of them had trouble making it up or down the risers and steps, but all looked ageless as they made music together.

—–
Subscribe to my mailing list
Every Friday I send out an email with
everything I've written that week along
with a few interesting things I've read. Join me.