Yesterday the Rockford High School Advanced Women's Ensemble (Mandy Mikita Scott, conductor) shared a remarkable program at the ACDA-Michigan Fall Conference. Their program, titled "Be The Change" empowered the students in the choir to express their own emotional reality, and I felt a powerful positive energy in the room in reaction. It had a thematic unity you rarely hear in a conference concert – the singers made a profound statement about taking action for positive change in the world, and were empowered to make a statement for peace and positive action.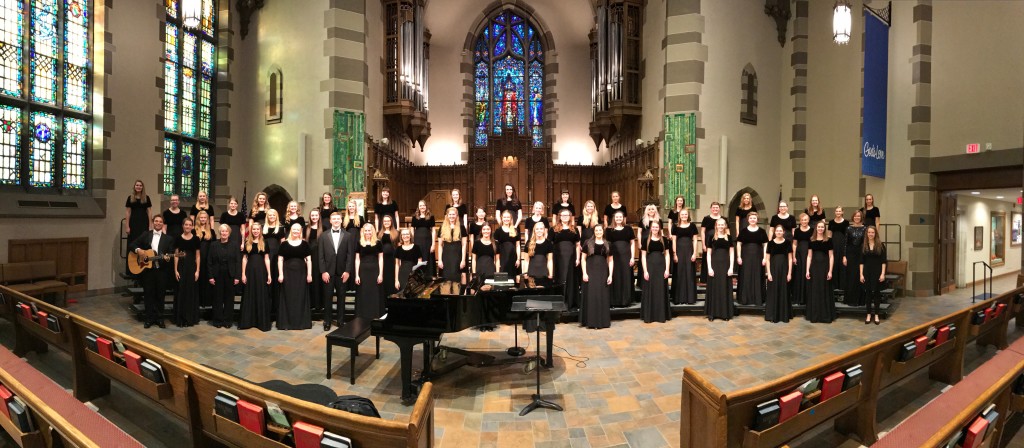 I was lucky to watch this program develop and coalesce, as the husband of the conductor. And as an arranger, I was honored to have my arrangement of my student Harrison Witt's composition, "Be The Change," featured as the closer in the program.
This was one of two World Premieres in their six-song, 25-minute performance: the choir were also we believe the first choir to premiere Andrea Ramsey's "But a Flint Holds Fire," commissioned by the Chorus America Commission Consortium.
Here is the program as performed yesterday:
Captives' Hymn (Margaret Dryburgh) [Carl Fischer]
One Voice (Ruth Moody) [Self-Published]
Fruits of the Selfless Heart (Elizabeth Atkinson) [Treble Clef Music Press]
But a Flint Holds Fire (Andrea Ramsey) (MANUSCRIPT)
I See the Heaven's Glories Shine (Andrea Ramsey) [Santa Barbara Music Publishing]
Be The Change (Harrison Witt, Arr. Jed Scott) (MANUSCRIPT)
Here is the PDF of the ACDA Program as provided to the audience, with notes and bios.
Congratulations to the singers – I hope this was an experience that will stay with you throughout your lives and inspire you to keep making music and acting for change.
Congratulations especially to composers Andrea Ramsey and Harrison Witt for profoundly effective and affective pieces.
Congratulations to the choir's collaborators on the performance – student teacher Sarah Brzyski, RHS Choirs colleague Renee Vande Wege, accompanist Peggy Odren, student guitarist Tate Radaz.
And most of all, congratulations and thank you to my amazing wife, Mandy, for making this profound statement, empowering your students, and being bold and heartfelt with your programming, teaching, and conducting. You make the choral world a better community. You make the world better.